Are you curious to know if there's a science to landing a job that not only pays well but leads to exponential career growth?
For a long time, I sure was. I read hundreds of articles and books and watched countless videos and webinars from so-called career experts. But, still, something was missing.
I wanted to hear directly from people like you and me — real professionals working toward that common goal of finding their dream jobs.
So, I spent the last 8 months diving deep into the research. I reviewed 67 LinkedIn polls, studied surveys from 29 career sites, interviewed 237 HR Managers, and paid a research firm $800 to survey 10,000+ job seekers. In total, the number of participants in all the data I gathered exceeded 250k!
In this article, I'm sharing what I found as well and debunking some popular myths. Specifically, we'll be looking at statistics on:
CV and cover letters
How to find and apply to jobs
Job interviews
Career satisfaction
Before we proceed, it's important to note that I'll be using the term CV and resume interchangeably although there are some minute differences in their definitions. In certain countries and cultures, both terms are one and the same.
Let's begin!
CV and Cover Letter Statistics
How many pages should a CV be?
2 pages max. 90% of the HR professionals I interviewed told me they believe a CV should not be more than 2 pages regardless of how much professional experience you have.
Similarly, 83% of a recent LinkedIn poll with 1202 respondents agreed that resumes of 1 or 2 pages are ideal.
Generally, the standard is 1 page if you're very early on in your career. As you get further into your career, your resume can extend to the second page if you really can't fit all of your relevant experience on one page.
Why is this important to know? HR professionals spend very little time reading through a resume extensively. On average, they spend just 7 seconds reviewing your resume the first time.
And even if you're shortlisted for an interview, they spend less than a minute going through the resume that took you about half an hour, if not more, to prepare.
As a job seeker, your focus should be on having the most important sections of your resume on the first page. Make sure you're including specific information that showcases your skills and accomplishments relative to the job you're applying for.
Should you put your picture on your resume?
In our discussion with 74 HR managers, almost all agreed that there's no need for a photo on a resume except if it's required for the position you're applying for.
Why not? A photo increases bias. And that's never a good thing during the hiring process. 54% of over 6000 Linkedin users believe that their level of attractiveness has cost them a job.
In my research, I also found a trend that indicates there's an inverse relationship between men and women based on looks and the type of jobs that they land. Attractive women sometimes get entry-level positions faster but in roles that could stifle their careers in the long run. Such roles include many front-facing roles such as customer service, executive assistant, sales professional, hostess, newscaster, and so on.
On the other hand, I've found that men that are taller and considered more attractive are likely to land more senior-level positions at Fortune 500 companies, whilst women of similar attraction usually don't get those roles.
Of course, there are other factors to be considered when dissecting such research, which goes beyond the scope of this article. So, let's get back to the stats!
Finally, we also found from a survey of 2,500 HR managers that 88% of CVs with photos get discarded.
In summary, don't put your photo on your resume. There's little to no benefit.
Which part of a resume is the most challenging to write?
35% of 3,086 surveyed respondents find it most challenging to write about key accomplishments in the professional summary and work experience sections.
20% struggle to incorporate the keywords hiring managers, recruiters, and applicant tracking systems are looking for when writing those sections.
17% of respondents find keeping the resume concise and selecting the right format to be the most challenging.
How often should you update your resume?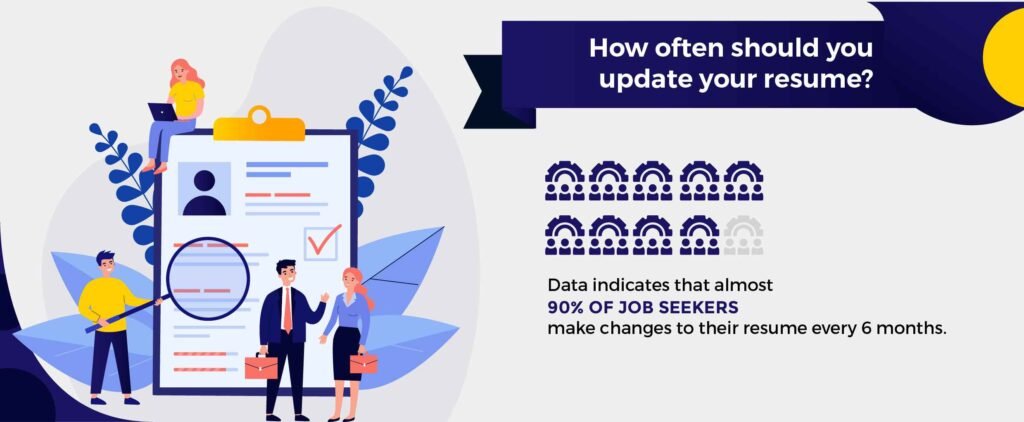 Here's the simple answer: it depends on whether you are passively or actively searching for a job.
53% of our respondents to our survey stated that they updated their resume in the last month, whilst 35% of respondents mentioned it was within the last 3 – 6 months.
Since our survey was dominated by job seekers, whether passively or actively job seeking, the data indicates that almost 90% of this group make changes to their resume every 6 months.
Which resumes get shortlisted by hiring managers?
86% of the 203 surveyed HR managers mentioned that resumes with keywords closest to the job requirements are likely to be shortlisted to the next stage of the hiring process.
Those same HR managers also reported looking closely at the applicant's location, prior work experience and accomplishments, professional summary and relevant competencies.
Finally, they also reported giving importance to the company and university institutions you've attended to get additional context on your competitiveness in the job market.
What happens if you lie on your resume?
75% of 2500 HR Managers confirmed that they caught job candidates lying on their resumes. A lot of the lies are caught at the initial job interview or assessment tests. This is one of the biggest reasons why candidates are quickly eliminated from the hiring process.
How often do applicants submit cover letters to a job listing?
Cover letters aren't always necessary or mandatory to apply for a job. But, if a cover letter option exists, 38% of the 20,000 respondents from 3 different Linkedin polls indicated that they submit a cover letter.
On the other hand, surveyed hiring managers estimated that less than 15% of applicants submit optional cover letters.
Do employers read cover letters?
From our group of surveyed hiring managers, 179 mentioned that they read cover letters a lot less than they read resumes.
Those hiring managers are more likely to read a cover letter if the resume was above average and they wanted to know more about the candidate.
With that in mind, it's important that your cover letter doesn't rehash what's already in your resume. Instead, it should give the hiring manager a better understanding of your relevant achievements and qualifications, why you're a good fit for this particular job, and why you want to work at the company.
Job Search Statistics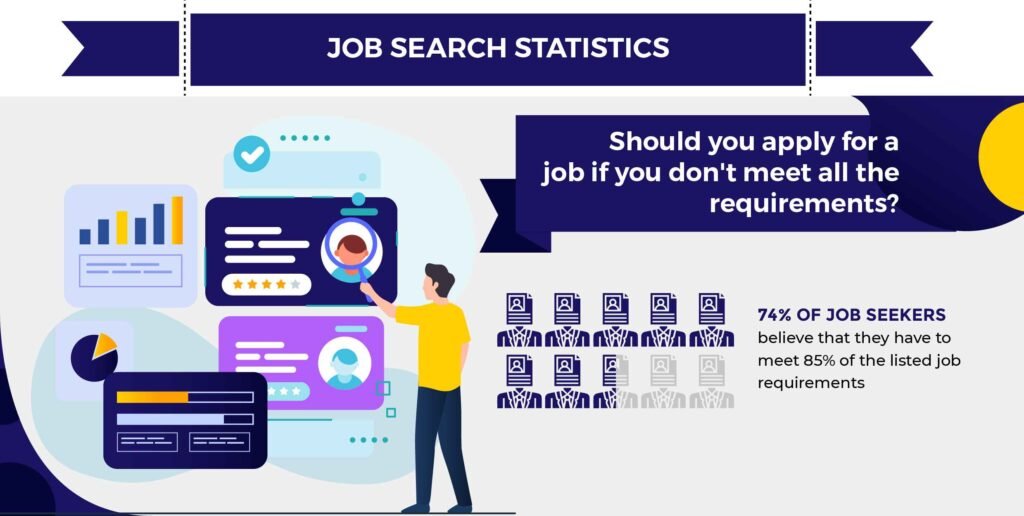 Should you apply for a job if you don't meet all the requirements?
When applying for a job, 74% of job seekers believe that they have to meet 85% of the listed job requirements to submit their application. But this is usually not the case.
A lot of times, the job listing is like a wish list. HR Managers are looking for the most qualified candidates based on a specific budget. They also know that acquiring talent of a certain level can be expensive and hard to persuade to switch jobs.
But if the company is not a Fortune 500, regional leader or high-growth venture-backed startup in FinTech, it's likely that the company is flexible on the job requirements. If you meet 50%-70% of the job requirements, you can and should still apply.
How effective is LinkedIn for finding a job?
LinkedIn has created better tools for hiring managers to find talent and post jobs as quickly as possible. This has led to as much as 34% of 64k surveyed professionals claiming that LinkedIn was the biggest factor for helping them land a job.
What's the best way to find a job?
Of the 26,000 people surveyed, 37% of professionals believe that referrals are the main factor for landing a job. Alternatively, 34% believe applying directly via job boards and company career pages are the best ways to find a job.
When we ask how people found their last job, 42% mentioned it was through applying to the company directly online, 24% received a call from a recruiter as a result of a referral or their online brand, and 18% found the job via their network and applied directly without anyone reaching out to them.
How do you get a job interview?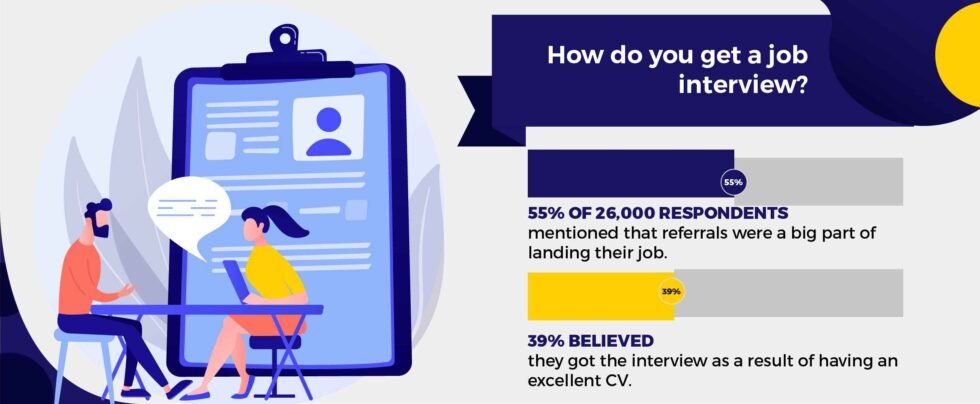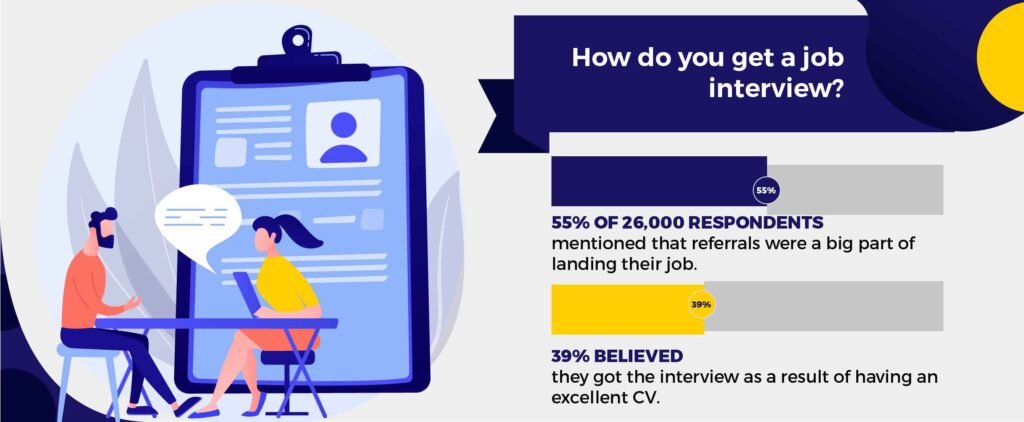 55% of the 26,000 respondents mentioned that referrals were a big part of what helped them land a job interview.
39% believed they got the interview as a result of having an excellent CV.
Some respondents also felt that building their online presence and personal brand helped land interview opportunities.
Why is it hard to find a job?
Over 3,300 job seekers stated that they don't know how to find the right jobs. This goes back to the importance of referrals and building a strong network.
What percentage of jobs are published online?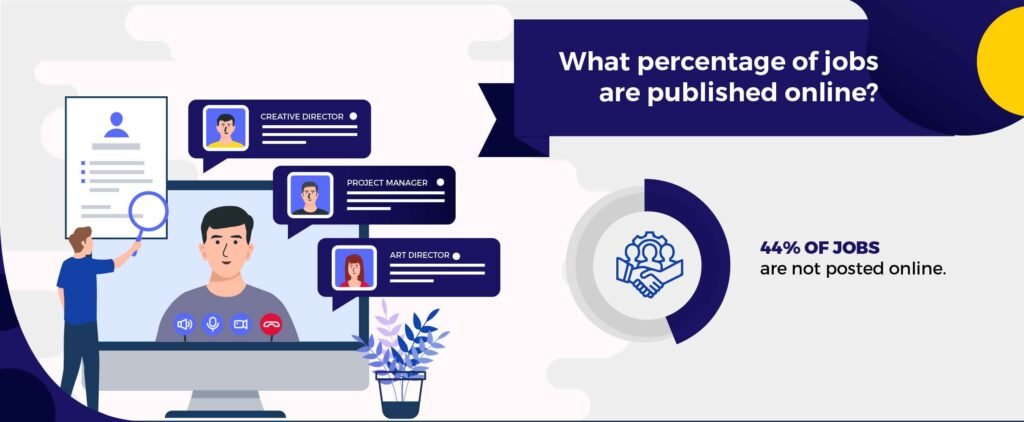 44% of jobs are not posted online. This could be one of the reasons why people mentioned they need help to find the right jobs. This is another reason to focus on networking and building new professional relationships.
How long does it take to find a job?
It takes roughly 6 months to find a graduate job in the U.S. In emerging countries, such as Nigeria, the average job search takes 9 months if you're living in a major city. If you live in a less populated area, it could take even longer.
Where do you learn job seeking tips and techniques?
In university, most people don't learn how to find and apply for jobs. So, where do most people learn about job hunting outside of family, friends, and personal connections?
In our poll of 2018 professionals, we found that 77% of job seekers have either watched YouTube videos to learn about job searching or are planning to do so within the next few months.
Job Interview Statistics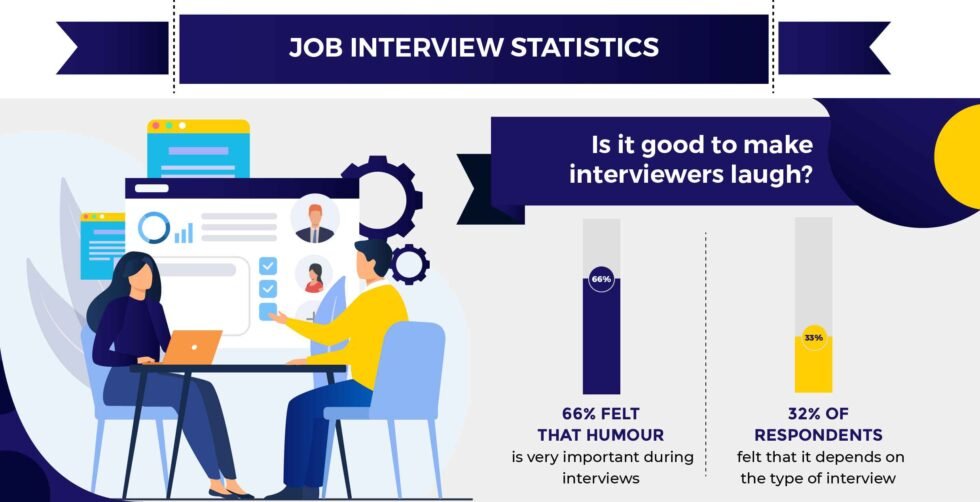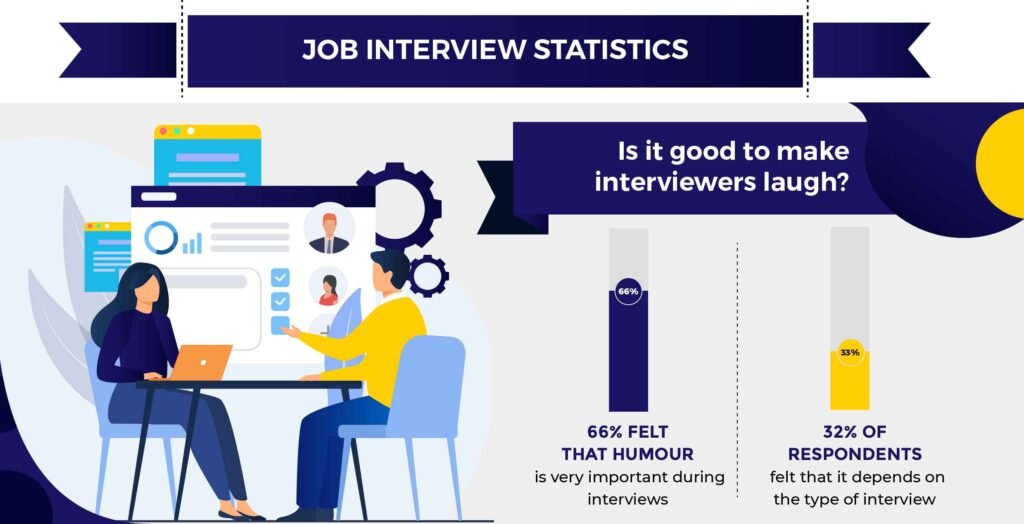 Is it good to make interviewers laugh?
Of 3317 respondents, 66% felt that humour is very important during interviews as it can help lighten the mood and make you more likeable.
Another 32% of respondents felt that it depends on the type of interview and personality of the interviewer. It's also important to remember that what you might find funny another person could find offensive.
Do professionals like being invited to informational interviews?
In a different poll of 4,128 respondents, 93% stated that they'll be willing to participate in informational interviews if their schedule permits. This is great to know as informational interviews are a major source of information on companies and industries for job applicants.
How common is it to negotiate salary?
Only 35% of candidates from a pool of 27k admitted to always negotiating salaries. The major reason why most people don't negotiate their salaries is due to a fear of the offer being pulled back.
Should you ask for feedback after an interview?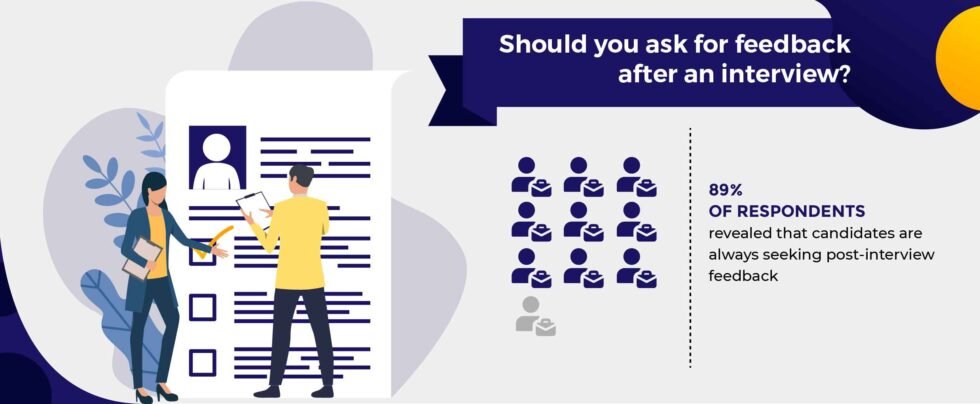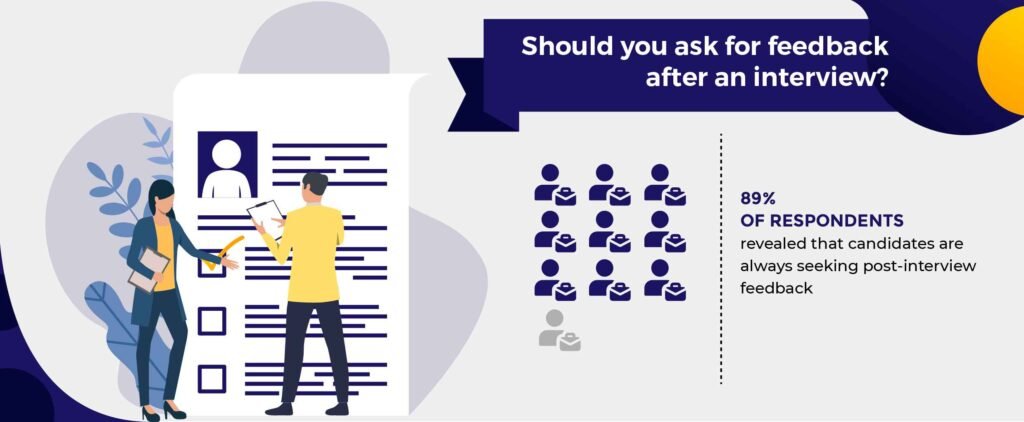 89% of respondents in a survey of 25,000 people revealed that candidates are always seeking post-interview feedback. However, hiring managers rarely do this because there's no upside for them. Only a few companies have included post-interview feedback as part of their hiring culture.
Is it normal to get ghosted after an interview?
65% of job applicants don't hear back from the company after an interview.
Career Satisfaction Statistics
What motivates employees besides money?
In a survey of 14,450 professionals, 41% felt that having passion for the job keeps them highly motivated.
Nonetheless, it's important to note that context is important. In diving into what motivates someone, it's important to understand the nature of their job and how much it currently pays. We say that people who earn considerably higher in jobs where they had the skills were more motivated by finances.
About 30% of respondents agreed that their salary motivated them even if they were not totally satisfied with their job or company. 27% of respondents found opportunities for career advancement at their jobs as a source of motivation.
How often do people switch jobs?
Young professionals, especially millennials, are switching jobs faster than any generation before. A survey of 18,500 professionals found that 55% of the millennial workforce changes jobs every 2-3 years. In addition, 40% of workers have a side gig and another 38% are considering starting one.
Are office romances common?
About half of U.S. employees have engaged in office romance at some point in their careers. The more interesting thing to note is that 1 out 5 were not single at the time the romance occurred.
Do workers prefer working from home?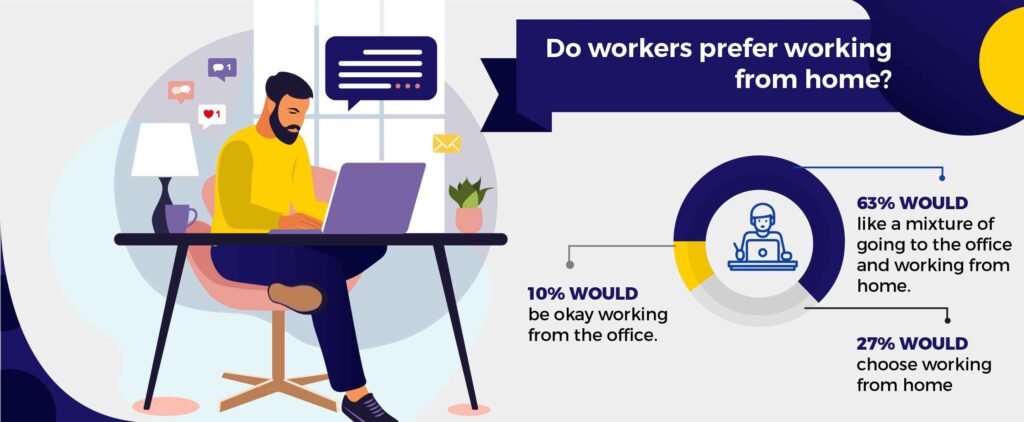 In a survey of 28,000 workers, 63% would like a mixture of going to the office and working from home. However, if they had to choose between working from home and working at the office, 27% would choose working from home while only 10% would be okay working from the office.
Why do most employees leave their jobs?
People don't leave bad companies, they leave bad bosses. This is a popular saying in the career world, so we had to ask again.
In our survey of 2,500 professionals, 65% agreed that their boss was the biggest reason for switching jobs. A respondent's salary accounted for only 15% of the reasons why people left their jobs.
Post-pandemic, 60% of the global workforce also feels that they'll be interested in looking for new jobs.
How often do people voluntarily leave good, stable jobs?
81% of workers today surveyed from a list of 5,655 are willing to risk a stable job for one with better financial outcomes. 69% of those that said 'yes' were men, which seems to show women are less likely to leave stable jobs than men.
What's an average entry-level salary?
The starting salaries in Nigeria for graduate jobs range between NGN50k monthly ($100) to NGN150k ($300) monthly. Less than 10% of young professionals would earn higher than the aforementioned range on their first job.
If you are about to graduate and think you'll be the exception, you'd have to aim to work with one of the largest publicly quoted institutions in the country or a multinational. From our survey of 1200 SMEs, less than 1% admitted to paying more than 150k for an entry-level role.
Want to make landing your dream job easier?
Finding and landing your dream job is never easy. But it is possible! And I hope that the statistics and research I've shared here will help you make decisions that lead to the results you're after.
And, if you're looking for a quick way to create an attractive CV that incorporates all the best resume writing practices mentioned in this post, check out Reventify's CV Builder!